Tirpentwys MTB Trails
---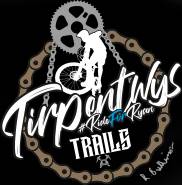 A well hidden bike park, carved into Welsh Hillside in the South Wales valleys, providing some superb hand built mountain bike tracks in the area.
The trails are maintained by a bunch of dedicated trail crew determined to continue the work and legacy of fellow builder and founder Ryan Bullimore. Tirpentwys Trails are unofficial tracks, please familiarise yourself with the Trail Rules & Etiquette, and always walk the trails first to make sure you're riding to your ability. There's a chilled out vibe at the trails and they'd like to keep it that way.
6 mountain bike trails for riders of a competent ability. The trails feature steep swooping berms, jumps, drop offs, and a session area to hone your skills. We have a team of voluntary trail builders of all ages helping to maintain and building new trails.
WHERE: Pontypool, NP4 6UL
Route type: Downhill