Tarka Trail
---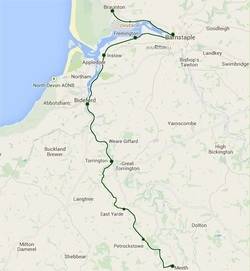 The Tarka Trail is an entirely traffic-free 50km / 32mile cycle trail which runs from Braunton to Meeth in North Devon. The flat and family-friendly trail travels through beautiful countryside, offering stunning views across the estuaries of the River Taw and Torridge with many picnic spots, cafes and pubs along the route.
The trail also forms the northern part of the superb Devon Coast to Coast (National Cycle Network Route 27).
Stretching for over 52km / 32 miles from Braunton to Barnstaple, then to Instow, Bideford, Great Torrington and on to Meeth. Entirely traffic-free, this section of the "Devon Coast to Coast" is known as the Tarka Cycle Trail as it follows the journey of Tarka the Otter in the classic tale written by Henry Williamson. The route can be broken up into easily managed sections:
Braunton to Barnstaple 10km / 6 miles
Barnstaple to Bideford 14km / 9 miles
Bideford to Great Torrington 10km / 6 miles
Great Torrington to Meeth 18km / 11 miles
The "Devon Coast to Coast" National Cycle Network (NCN) Route 27, the complete 102 mile route of which, runs between Ilfracombe on the north Devon coast to Plymouth on the south coast.
Route type: Family point to point