Rowberrow Warren, Cheddar
---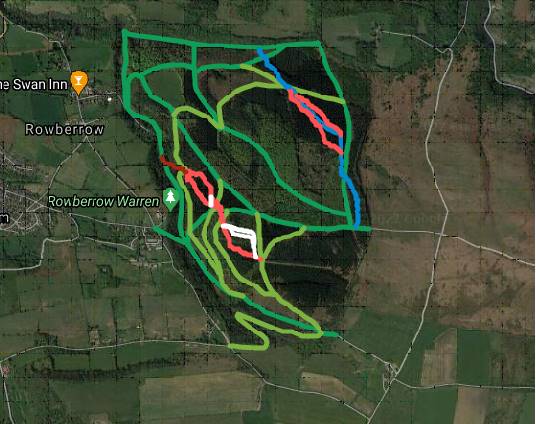 Rowberrow Warren is privately owned land managed by Forestry England under lease, where the land-owners have kindly given permission for mountain bikers to use two official, waymarked, mountain bike trails and all surfaced forest tracks.
South West Trail - begins up to the right of the West Mendip Way bridleway leading from Tynings Farm. Red grade route with Black end. The trail includes several sections: Christmas Trees, Pig Pen, Happy Valley & (black grade) Vicious Valley. There are also plans to reinstate Jump Line #1 and Jump Line #2 to the right of Christmas Trees.
North East Trail - begins on the bridleway near the entrance gate to Black Down. Blue with Red options (Lumps & Bumps and The Chippy). The trail includes several sections: (blue) Pump Track, (blue) Lumps & Bumps, (red) Twins, (red) The Chippy and (blue) Yee Haw.
Please Stick to the Official Trails - riding and digging of unofficial wild trails is forbidden as they are not permitted by the land-owners.
Route type: Woodland